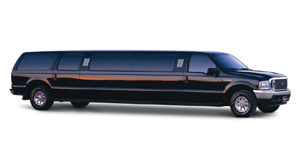 Stretch SUVs
Max Capacity: 10-14
Starting at $150.00/hour
SUV Navigator Limousine
Harmony seems to be the underlying theme of the SUV Navigator. Available in black or white, the limousine designer has softened the bold lines of the high-end SUV into this smoothly elongated version. The interior is styled to transcend flashiness, while being inspiring and relaxing at the same time.
The colour scheme of bright white on camel interior lends itself perfectly to lightness and glamour of the ideal wedding day. Whether it's the bride to be or her many bridesmaids and family travelling behind, our Navigators will be a wonderful addition that is budget-friendly, practical and prestigious. At Pacific Harmony Limousine, we find that many people overlook the importance of proper transportation. When you're headed to your special event, possible an hour or more away, you don't want to be stuck in a cramped car with poor ventilation and a dying suspension system. Don't let a single hair fall out of place with our smooth running, feature-packed Navigators. In addition, our black Navigator fleet apply themselves perfectly for your corporate ride as well as any special event, even if just a night on the town. There's nothing quite as exhilarating than showing up with all eyes on you. Leave an impression with a chauffeured Navigator Limousine.
SUV Excursion Limousine
Want to turn it up a notch? The SUV Excursion Limousine has an eye-catching outlook with unparalleled, hi-tech sophistication, creative finishing touch, and opulent comfort, by Executive Coach Builders. You can't not have fun in this amazing vehicle. Whether it's the illuminated ceiling, tropical curved bar tops or the outrageous music that will, most definitely, be blasting, you'll fall in love with the SUV Excursion Limousines. You're sure to make a few wonderful memories and go home with a handful of hilarious stories from only a few hours in our party fleet vehicles.
Much like the stylish people inside, this limo has dressed its best with its classic tuxedo look. You'll not only be having fun in our Excursion fleet, you'll look good while doing it. Make them jealous with the 4 LCD televisions, Boston Acoustics stereo system, iPod/iPhone connectivity, DVD player, and extremely comfortable seating of the Excursion. Experience something different with our Excursion fleet.
Pacific Harmony Limousine offers a wide selection of vehicles for all of your upscale transportation needs. From corporate luxury sedans or super stretch and SUV limos, ideal for wedding charters, to the spacious and inviting limo buses for larger groups celebrating graduations or anniversaries, we will meet and exceed your expectations for comfort, safety, and service.
Pacific Harmony Limousine services the Greater Vancouver and Lower Mainland area, including Vancouver, Coquitlam, Victoria, Whistler, and surrounding areas. We also make daily airport transfers to Vancouver International Airport (YVR) and Abbotsford International Airport (YXX).
---
The consumption of alcohol in (ANY) motor vehicle, is strictly against the law in BC, regardless of age. *Section 44(1) Liquor Control Act of BC*
---